Sports Dog: World Pup 2!
A downloadable game for Windows
In the grim barkness of the near future, there are only dogs...
After the famous Golden Retriever "Sports Dog" saved the winning penalty shot in the World Cup Final, everything changed.
It became clear to the world that dogs were superior to humans at soccer. Why no one had seen this before remains a mystery, but one thing is clear: There was no turning back, dog soccer was the new craze.
At first the major leagues and associations fought it, banning dogs from playing at the highest level. This turned out to be counterproductive, as minor leagues which allowed dogs soon overtook them in audience share and revenue.
After a few short years, the ban was lifted and dogs were pervasive at all levels. Their ball sense, stamina, obedience, and team spirit eclipsed even the greatest of human players.
A generation later, only dogs remain on the field. Bred to be even faster, stronger, and cuter, dog soccer is played and watched all over the world.
As the manager of one of the best teams in the world, can you lead them to victory in the World Pup?
Footnote:

If you beat the game, you unlock the secret Golden Retriever breed for all future game sessions!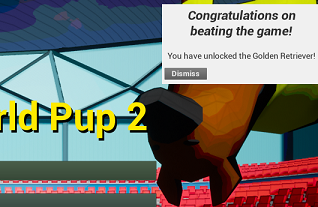 ---
Full Credits
(in order of contribution)
Love

Project Management
UI Programming
UI Design
Animation Programming

Animating
Gameplay Programming

Kukrunkarmaskin

Gameplay Programming
Physics Programming
Graphics Programming
AI Programming

Emily

3D Environment Art
3D Character Art
Animating
Rigging

DanielD

Music Composing
Sound Engineering

Mihai Zetta
This game was made with the Unreal Engine
Download
Download
SportsDogWorldPup2_rc5.zip
60 MB
Comments
Log in with itch.io to leave a comment.
This game has awesome ball physics. Please make another soccer game.
Did you programmed the physics?